Alibaba blazes into Death Battle
Name: Alibaba Saluja
Age: 22 (physically) Over 100 (mentally)
Height: 177cm (5'9.5")
Weight: 64 kg (141 lbs)
AKA: Wonder Man Alibaba
Series: Magi
Occupation: King's Vessel/Trader/Dungeon Conqueror/Kou Empire's Prime Minister/
Gladiator
First Appearance: Manga Chapter 2 "His Name is Alibaba", anime Episode 1.
Character Theme: "One Step Further"
www.youtube.com/watch?v=h8e2NO…
Bio: Son of King Rashid Saluja and the palace maid (later prostitute) Anise, Alibaba Saluja is the former third Prince of the Balbadd Kingdom. He spent his early years in the slums, until the death of his mother, where his father sent for him to live and be trained as a Prince in the palace. Alibaba took a liking to the business swordplay parts of the training, but his life was uprooted when he was tricked into revealing the hidden passages of the palace to thieves. He left, and was working as a cart driver when he first met Aladdin. The two captured a dungeon together and teamed up with Morgiana, a Fanalis girl. He is Aladdin's Kings Candidate and a Dungeon Capturer, as well as the deuteragonist of the series.
---


Natural Abilities.


Strength




-Can restrain, judo throw, and oneshot men twice his size with little effort.




-Can even casually OHKO Kou Empire War Beasts, human/animal hybrids much stronger and tougher than humans.

Speed




-Can easily dodge and block attacks from trained swordsmen and gladiators, Kou Empire War Beasts, reanimated swordsmen, magi, and magical weapons.

-Speed Blitzed Isaac, a reanimated swordsmen with enhanced speed, twice during their fight.

-Dodged shots from magical guns that shot explosive water at close range.

Durability




-Got tackled by an Kou Empire Experiment (an Elephant-Man monster) and continues fighting with little or no damage.

-Took repeated slashes from a Dark Djinn (that had previously knocked Morgiana across the city) and lightning blasts from Judar, and stayed fighting.

-Survived a brutal mauling from Garda, a giant, intelligent ape, and even managed to win

-Got slammed into a wall by Morgiana and not only stayed conscious, he was up and fighting in minutes.

-Survived being hit with a tornado and regained consciousness in minutes.


Intelligence




-given a high level of education possible in the Royal Palace of Balbadd after the king adopted him, and as such knows difficult languages like Torran Language and possesses high knowledge.

-After his time in the Dark Continent he has gained a plethora of knowledge from the Alma Torran magicians of that age

-Outwitted Jafar with ease.

-Defeated Garda with strategy

-Came up with a lie on the fly to trick a king.

-as a kid, dug "innumerable" tunnels across the city on the off chance he needed one.


Skill




-Trained in Balbadd Royal Swordplay, Sharkann's style of Swordplay, and Reim Gladiator swordplay.

-Outskilled Jafar with only Royal Swordplay
--Jafar had trained for years in Royal Swordplay.

-Defeated Toto without using Amon's magic


Magoi Manipulation




-Can manipulate his magoi to a limited extent to strengthen his weapons, enhance his damage output or shock his opponent.


---


Amon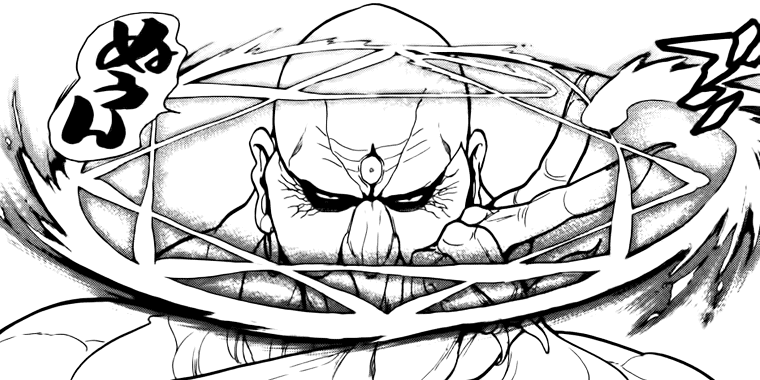 -Fire Djinn that Alibaba received after he captured the 7th Dungeon along with Aladdin and Morgiana. Spirit of Politeness and Austerity. Resides in Alibaba's short sword (formerly resided in a knife)
--Can summon and manipulate flames, including flame whips, fire walls, flaming tornadoes and such.

-the sword is completely immune to any type of fire or heat.
--If it is attacked by it, it will completely absorb it and strengthen itself

Djinn Weapon Equip




-Amon's sword: Amon manifests his weapon from Alibaba's short sword, summoned when Alibaba focuses the flames of Amon into his sword and arms. Manifests as a massive, two handed sword and black armor around Alibaba's arms.
--can cut through steel, stone, metal vessels, magical shields, golems too tough for even Morgiana to hurt, and other objects
--can even disintegrate beings that can regenerate, killing them permanently

-Stopped a spear/Sword strong enough to cut a city in half.





-Amon's Royal Sword: Alibaba has also learned the second method of Djinn Weapon Equip where the weapon retains it's original shape using less Magoi and allows him to better use his sword skills and Amon's flame abilities. In this form his attack range is slightly larger so if his sword doesn't hit the opponent the heat produced around the sword is able to slice and enhance the range of the attack.




-Amol Dherrsaiqa (Amon's Roaring Flame Sword): After using the second method of Djinn Weapon Equip Alibaba summons and concentrates a large amount of flames around it. This turns it into a vortex of flames capable of incinerating everything it touches instantly. This can be combined with his Royal Swordplay.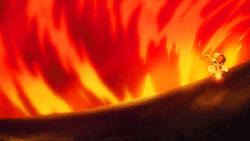 -Amol Berka (Amon's Wall): Alibaba create a wall of flames.



Djinn Equipp/Djinn Full Body Equip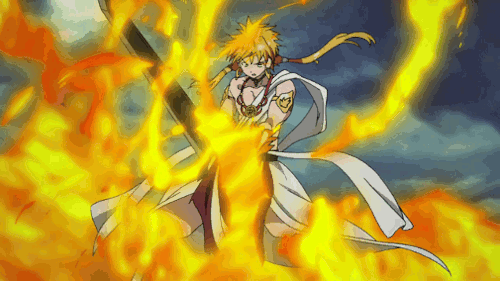 -Alibaba and Amon fuse. Alibaba gains flame-like protrusions from his arms and legs, a third eye on his forehead and a naval piercing. While in this mode, Alibaba becomes very powerful, able to cut down three Black Djinn in one slash. All of his previous abilities are increases.
--Can fly faster than Aladdin's turban, blitz Djinn with ease, and absorb even greater amounts of flame
-Amol Al-Bador Saiqa (Flame Minister's Beheading Sword): When this Extreme Magic is summoned, it becomes a huge sword made of fire and a person made of fire which is able to pierce through the hardest objects and barriers. While clashing against Hakuryuu, it shown he improved this ability by transforming the flame warrior into the large phoenix with six wings (three on each side). The power is strong enough to resist against Hakuryuu's Extreme Magic.
</b>
---


Time Sense




-gained the ability to alter his own sense of time, making "an instant last eternity".




-Can live a hundred years in a single day.


---


Weaknesses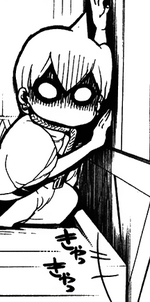 -Can be unsure and unconfident

-Magoi can run out
--absorbing fire helps him recover his energy and fight for a while longer.

-Can be killed with enough force, even in Full Djinn form.

-If the star on his Metal vessel is damaged, he can't use Amon
--the star itself is very durable

-Doesn't get as much screentime as he should.